Posted by Tania Kindersley.
I was going to write such a light-hearted blog today. I spent two hours up with my mare and my dog and the funny little Welsh pony, working, playing about in the field, grooming everyone, doling out love and carrots, getting my hands filthy after keeping them clean and posh for the five days of Ascot. I was going to give you some more thoughts on the brave Black Caviar and the mighty Frankel, the two stars of the show.
Then I sat down and turned on Twitter and heard of the sudden, shocking death of the young jockey Campbell Gillies. He was twenty-one years old and he suffered a fatal accident whilst on holiday.
Here was a young man of great physical courage, who risked his life and limb every time he went to work. People sometimes forget that about jockeys, as they easily carp and criticise when a bet goes south. Those who ride horses for a living get to do a job they love, with beautiful and bold animals. On the other hand, their life is exceptionally hard and rigorous.
There is the endless travelling, the battle with weight, the need for exceptional physical fitness. Their muscles are like steel hawsers and they must keep them that way. They will often get up before dawn to ride work, then travel to one or two race meetings, and return home in the dark. They might have the joy of riding a winner, but they might have to boot some badly-schooled old dope through the mud and the rain.
Not every day is the glory of Ascot or Cheltenham; there are miserable wet Wednesdays at tiny tracks in front of four men and a dog. I remember years ago going with my dad to Huntingdon, where the fog was so thick that we watched the horses set off and disappear into a wall of mist. Everyone went back into the bar, had whisky macs, and came back out six minutes later to see the field straggle out of the gloom and past the winning post.
There is the politics of dealing with the owners, some of whom want to give their own instructions, not all of whom understand enough about racing to understand why their dear old slow coach will not win everything in sight. Often, in these cases, it is the poor jockey who gets the blame.
And, of course, there is the jeopardy. Shoulders dislocate, legs snap like twigs, bones and sinew groan and crush under the weight of a falling horse. Jumping at speed is the most hazardous, but even on the flat accidents can happen. I saw the brilliant young jockey, William Buick, have a hideous fall last week at the royal meeting.
The irony is that a young man who pursued this tough life should die in the benign circumstances of a Greek holiday. It was his one week in the sun, and it seems particularly horrible that it should have ended in such senseless tragedy.
His greatest moment came in March this year, giving the lovely young hurdler, Brindisi Breeze, a storming ride up the Cheltenham hill to victory. In a double sorrow, Brindisi himself was killed in a freak accident only a few weeks ago, when he jumped out of his paddock in the night. The yard of Lucinda Russell and Peter Scudamore, where the horse was trained and where Gillies worked, must be in a very dark mourning today. There is no consolation in this kind of loss.
There is a family in grief, and, in weighing rooms around the country, an empty peg. Campbell Gillies was not only a really talented and hard-working man, but much beloved by his fellow jockeys. A true gentleman, they said of him; a legend, never a dull moment, always a smile on his face. One headline said: racing in mourning, and that is not to overstate it. Too much goodness and talent snuffed out; so much promise lost.
One must not fall into cheap sentiment or easy anthropomorphism, but the horses he rode will feel the gap too. Gillies loved them and worked with them every day. Equines may not love in the way humans do, but they have their own horsey hearts. (There is even some recent science showing that horses recognise their owners' voices; there is, if not love as we understand it, trust and bond and attachment, something, perhaps, as profound and important as what we know as love. My mare certainly cantered to the gate when I returned from my trip to the south, shaking her head at me as if to say: where have you been?) My guess is that the thoroughbreds whom that young fellow knew and rode so well will sense his absence.
Death is the final mystery; no one really knows what happens after. I do not have a heaven, or believe in an afterlife, although I do know that the dear departed live on in the hearts of those who loved them. But sometimes I wish I had that simple belief. I wish there were some great racetrack in the sky, an eternal Cheltenham hill, where Campbell Gillies and Brindisi Breeze could gallop together always. Perhaps, in some sort of way, in the memories of those who saw them on that triumphant day, there is.
This lovely picture accompanied the tribute in the Racing Post, taken at Lucinda Russell's yard: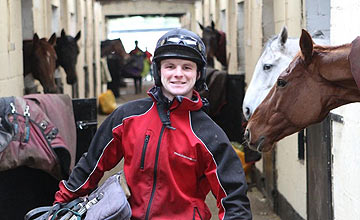 Picture by John Grossick.
And with Brindisi and Russell, on their lovely day of victory:
Photograph uncredited.
Today's pictures are of Scotland in the sun. I nearly did not put pictures, it seemed insensitive after such sad news. But I suppose it is a life must go on thing. I hope that was the right decision:
My girls:
The hill: