The writer brain and the dog brain have an argument.
The writer brain says: 'Go on, give them something really good today. Give them some dancing prose. Turn a phrase, why don't you?'
The dog brain says: 'Are you mad? It's as much as I can do to put my socks on.'
The writer brain says: 'Yes, yes. But you could be poetical about it. You don't want this turning into a misery memoir.' (You should imagine this last being said in tones as dark as pitch.)
The dog brain whimpers and goes to hide behind the sofa.
I sometimes think I admit too much to all the different voices in my head. I imagine students of psychology reading this and nodding knowingly and diagnosing multiple personality disorder. But I am grateful to the voices. They keep me up to scratch.
The writer brain has, I discover, the famous sliver of ice at its heart of which Graham Greene wrote. Even in a season of grief it is still saying: write it well. It is not at all sure that I should be recounting all this (can't you tell them something amusing? it says, crossly), but if it cannot stop me, it at least insists that I pay attention to the sentences. You can't just hurl undifferentiated sorrow at a page, it sincerely believes; you must shape it and craft it and make it worth something.
The dog brain is too sad to worry about any of that. It just hopes that there are other people out there, on Dog Island, understanding what it is on about.
I maintain my morning routine. I go up to spend gentle time with my mare. She does her touching, daily thing of standing quietly next to me, resting her head against me, and letting me be. I am pretty calm. I find her sweet, still presence amazingly soothing. I think how lucky I am that she chooses me. She could walk away at any time; she is not tethered. But she decides that the place she wants to rest is by my side. Just as I am feeling reassured by this, a wave of missing hits. I remember this too, from last year. There are small stretches of normality, of being almost fine, and then - whack crash boom smash - out of a clear blue sky it comes.
I lean against the mare's neck, making idiot wailing sounds. She is a fine thoroughbred, with all the temperament of her ancient breeding; she can be startled by a cow moving four fields away. She has a princess and the pea aspect to her, in that way. But this horrid noise does not faze her. She stands, staunch and stalwart, and takes it. I think: what great stroke of fortune sent me this miracle horse.
I go then to the newsagent to get the dear Stepfather's paper. My favourite news lady is in. I have been slightly dreading seeing her, because she is on Dog Island too, and we have talked in the past about our delight in our canines, and I would have to say the words out loud, and whenever I do that my voice breaks and I find it hard to speak coherently.
She asks how I am. I tell her.
'Very sad,' I say. 'I had to put my lovely girl down.'
She nods. She tells me that she had to do the same for her old lady, three weeks ago.
'Oh,' I say, 'I am so sorry'.
Tears shoot out of her eyes. We stand there, in the tiny shop, talking of our dear departed.
'Look what I've done now,' I say, trying to make a little joke; 'I've made you cry at work.'
Luckily the shop is empty. She wipes her eyes and describes a watery smile. The other newsagent looks serious. 'I haven't dared mention it,' she says.
My favourite news lady says she doesn't think she can get another dog, because her heart is too broken and she is not sure she can go through all this again.
I had been wondering about this myself. Last night, wandering about on the Facebook, I found a clutch of beautiful black Labrador puppies for sale. I suddenly terribly wanted one. In fact, I don't actually want a lab; I like the collie cross of my girls. I like mutts, in general. I have an odd prejudice against pure breeds. With that particular cross, you get all the sweetness of the Labrador with all the cleverness of the collie. You avoid the problems of in-breeding. So this sudden desire was slightly surprising.
In the absolute irrational spaces of my mind, I think that I can't get another dog yet, partly because, like the news lady, I am too bashed up to contemplate the love and the loss, and partly out of respect. This last is very nutty indeed. The dogs are gone, into wherever it is that the departed go; racing free over some celestial prairie, or in a parallel universe (I have lately been thinking about the several worlds theory of physics), or just in the dark of non-existence. They really, really would not mind. But I mind. I mind like hell. They are not replaceable. A space is demanded; respect must be paid.
My fingers pause over the keyboard. The writer brain shakes its head. I have not been poetical, or turned much of a phrase. Someone, somewhere, is going to ask for their money back, and they would have a case. Outside my window, the thick amber autumn sun comes out from the clouds, and brings the beeches to singing life. Everything is very quiet. I cast around for my daily good thing. Every day, there must be One Good Thing.
Luckily, there really is one today. Yesterday, I told you of the lovely racehorse Hunt Ball. Part of the reason that his story is so touching is that he really was not bred for greatness. He was not one of those prancing French horses that bloodstock agents buy for hundreds of thousands of pounds; he cost, as his owner told the Racing Post, about the same as a second-hand car. He is not owned by a corporate titan or trained by a household name.
But it turned out that he did not know he was not supposed to be a star. He jumps and gallops as if he were destined for glory; he has a wonderful zest for racing, and a lion heart. In recognition of this, Fontwell racecourse has done a really rather eccentric thing. It is having a Hunt Ball day. The horse will parade in front of the stands, all the races will be named after him and his connections, and if your surname is Hunt or Ball they are going to let you in for free. I think this is one of the sweetest and funniest things I ever heard.
The other reason people have warmed to this horse is because of his owner, Anthony Knott. Knott regularly bursts into tears in his post-race interviews. He hugs the presenters, laughs uproariously, speaks without shame of his love and pride in his great, galloping horse.
After Hunt Ball fulfilled the ultimate dream of storming up the Cheltenham Hill, Knott was asked if he would be getting up at dawn as usual to milk his cows.
'Bugger the cows,' he said, live, on national television. (You should imagine this in a lilting west country accent.)
Today, on Twitter, as people talk about the Fontwell day, they are exclaiming 'bugger the cows'. It is making me laugh a lot. It is, without doubt, my One Good Thing of the day.
Today's pictures:
Are mostly of trees:
Myfanwy the Pony:
Red the Mare. This is her moochy face, which she does when she ambles across the field to stand by my side. I love this face:
Pigeon, from the archive. I love this face too:
The wonderful Hunt Ball, with his smiling owner on the right: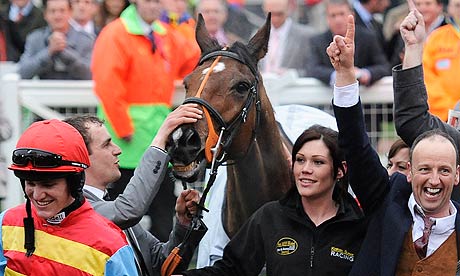 Photograph by Tom Jenkins for The Guardian.
And in glorious action. See how he points his toe:
Photograph by the very talented Edward Whitaker for the Racing Post.
Rather blurry hill: